Carpet Sales – Carpet Installation – Carpet Repairs – Carpet Stretching | in Mississauga, ON
What We Do!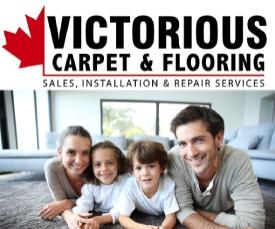 Victorious Carpet & Flooring offers a wide range of residential and commercial Luxury Vinyl Tile (LVT/VCT) Flooring, Wall to Wall Carpet and Carpet Tiles and Carpet Planks Sales, Carpet Installations, Carpet Repairs, and Carpet Re-Stretching Services. All of our installations are done by our fully trained technicians (We do not hire sub-contracts!). We are fully bonded and insured for all types and scales of projects. Servicing Toronto, Mississauga, Brampton, Oakville, Burlington, Vaughan, Markham, Richmond Hill, Pickering, Ajax and Whitby since 2001…
Our Services
Wall to Wall Carpet Sales
Wall to Wall Carpet Installation
Wall to Wall Carpet Repair
Wall to Wall Carpet Stretching
Commercial Carpet Sales, Installation & Repairs
Carpet Tile Sales, Installation & Repairs
LVT/LVP - Luxury Vinyl Tile Sale & Install
Phone: 4168587006
About Victorious Carpet and Flooring | Mississauga, ON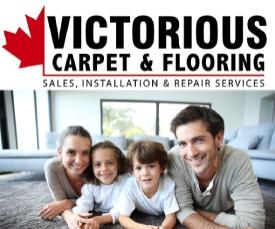 - Carpet Sales, Installation&Re-Stretching Services For Less!

Victorious Carpet&Flooring is not only supplying you with affordable and competitive priced wall to wall carpets but also providing expert repairs for all sorts of residential and commercial carpets. With our satisfaction quarantined services, we guarantee our installations against defects, wrinkling, buckling, split seams, detached edges and anything else that is related to our craftsmanship. No excuses! We will ensure you will receive the best and also the flawless customer service for your custom-tailored needs. Whether you are planning to replace the basement carpet, or your bedrooms with the hallway and stairs, or the rest of your home. We will do them all.

You will find with us 100s of carpet collections with 1000s of colours to choose from. Our low overhead will get the best deals for your wall to wall carpeting needs. We have 700 plus counting reviews so you can trust that you are with the right flooring contractor. Victorious Carpet&Flooring provides Award Winning service since 2001. Contact Us to inquire more about our services. Check some of the recently completed projects at our Gallery.



- All Sorts of Carpet Repairs

Our trained and qualified technicians can professionally repair damaged and worn wall to wall carpets. Often you can add more life to it by having it simply repaired. We repair Cat/Dog Damages. Split Seams. Snagged/Frayed Berbers. Worn/Damaged Underpad Replacements. Patching Stained Areas. Basement Water Damaged. Iron Burns on Carpet.Trip hazardous buckling Were Here To Have It Done Right For You. Check our before and after gallery here! => https://www.victoriousflooring.com/gallery/



- We Remove Buckles and Wrinkles

Got buckles and wrinkles? No problem. We do them all!

We can re-stretch your carpet back to its original tension. Re-stretching to Remove Buckles, Wrinkles, and Bubbles is an inexpensive way to extend the lifespan of your wall to wall carpet.
Our Location:
6750 Columbus Road, Mississauga, ON L5T 2G1
Ontario
,
L5T 2G1
CA
---
Our Company/Website Reviews
Private User - [Mississauga, ON]
Carpeted Stairs - Terrific service. Very professional. Would refer their service. Good value for the carpet and installation.


---
H in Ajax - [Ajax, ON]
Carpet Re-Stretching - Our experience with Victorious carpet was most satisfying. We contacted Mark and obtained a quotation. The service was scheduled for the following day. Mark showed up on time, explained the procedure, and then proceeded to re-stretch the carpet, taking care to clean up the area before leaving. To summarize … great job for a reasonable price, performed by a professional. Based on the service provided and the result, this experience was a 10 out of 10. I wish all service providers were this dependable.


---
Midtown - [Toronto, ON]
Basement Carpet Installation - Dealing with Victorious Carpets for new carpeting in the basement was a pleasure. Mark is extremely responsive and explained the pros and cons of the different types of carpets when he came out for the estimate. Once ordered the turnaround for installation was very fast, and Mark was very understanding when we had to postpone the installation for a couple of weeks. The installation itself was done quickly and well. The transitions to other flooring were done perfectly and the seams are invisible. We even asked Mark if he knew of where we could get the remnants bound for some small runners, and he actually picked them up and dropped them off with no charge at all for them. Amazing service! I would not hesitate to recommend Victorious Carpets.


---
Zoha in Pickering - [Pickering, ON]
Carpet Burn / Patchwork - Carpet&Rug Cleaning&Repairing review in Pickering14 days ago Mark was very professional and kind! He made me feel very comfortable, by taking secure measures, especially with everything going on with the virus right now. Aside from that, his work is also great! Our carpet looks phenomenal! His work is so clean that it does not even look like there is a patch on our carpet. We highly recommend his work and services. Thanks Mark :)


---
Vikki - [Toronto, ON]
Carpet On Stairs - From the first contact with the estimate to the completion of the job, Victorious flooring was courteous, understanding, prompt, and very professional. I am very satisfied with their work and impressed with their service. I highly recommend them.


---