Able Fence Co Tucson Arizona Redwood Galvanized Steel Posts Redwood Steel Gate Frames
What We Do!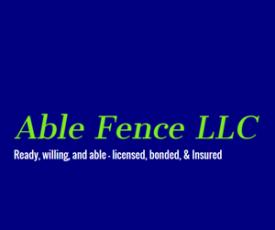 Whether you need security, privacy, or functionality, our professionals can help you with all your fence and gate needs. A redwood fence is a great way to add beauty to your property. It is one of the safe and secure fencing options available at Able Fence LLC. A redwood fence is perfect to provide a safe backyard or outdoor area. We use quality materials so that you can add value to your property with a new redwood fence installation. Do you want privacy and protection for your property, but you don't want to compromise on style? Well, good news! Able Fence LLC can customize your new doors and windows to offer the perfect installations to fit your property, budget, and privacy needs. Our doors and windows come in many colors, materials, and sizes. You can even leave your front door open for fresh air! Our fencing product, Privacy Max, is built to stand tall, tough, and secure for extra privacy for your property. Our fence installations can fit any type of property, so let us know when you are ready to enhance the beauty and security of your home.
Our Services
Redwood Fencing:Galvanized steel posts
Steel gate frames
Privacy fence
Untreated wood. Security Doors & Windows: Any color
Any style
Custom size
Keyed entry
Phone: 520-631-2053
About Able Fence Co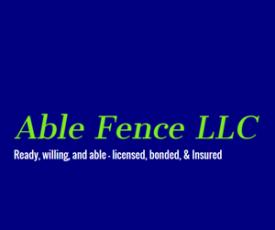 Locally owned and operated since 1992, Able Fence LLC offers a variety of custom fencing and gate installation and repair services. Our business is owner operated. Our owner will be present on every job to ensure professional and quality services.

We are licensed, bonded, and insured.
ROC# 310474

Whether you have a residential or commercial property in Tucson, AZ, Able Fence, LLC is the number to call for superior fencing solutions. We offer a wide array of fencing services including custom fencing installation, security doors, security window installation, gate installation, entryways installation, and more. Count on us for secure and stylish fencing for your property ensuring improved aesthetics and enhanced security on your premises.

When you choose Able Fence, LLC for your fencing needs, you can feel confident knowing you will be receiving the highest quality fencing services in the Tucson, AZ area. We offer a full array of fencing and gate options including privacy chain link fence installation, wrought iron fence installation, custom ranch fence installation, barbed wire fence installation, and more. We also offer pool equipment enclosures, residential rolling gates, and commercial rolling gates.

Whether your chain link fence has an opening or you are missing a rail from your wooden fencing, we can help. We offer trusted fencing repair services including custom gates repair, and more.

From commercial rolling gates and chain link fencing services to commercial wrought iron fences and aluminum slat fencing, we have all of your fencing needs covered. We can install the perfect redwood fence or install landscape additions to enhance your property.
Our Location:
10449 E Camino Tesote Pl
,
85749
US
---
Our Company/Website Reviews