Lucid Crew Austin,TX Website Design Social Media Marketing Logo Design Portfolio
What We Do!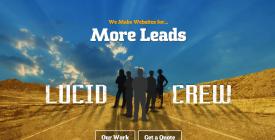 Austin SEO is an Austin based, full service digital marketing firm specializing in web design, SEO, CPC management, social media and video development. Our focus is to "help your audience to clearly receive your message". We employ the latest in web design, development, and search engine optimization. With our simple-to-use MediaStove Content Management System or Wordpress , anyone can update a website, right from a web browser. If you can write an email, you can update a website built by Lucid Crew. That's why we're the top web design company in Austin. Advertising agencies, PR firms and creative industry experts recognize Lucid Crew Web Design as one of the top metro Austin web design agencies, because we unfailingly provide custom web sites on-time and in budget. We are among the fastest-growing web design providers in Austin because we provide affordable prices and top-notch solutions.
Our Services
Web Strategy & Research
Web Design and Redesign
Responsive Web Design
Website Optimization
E-commerce Websites
Small Business Web Design
Custom Web Development
Phone: (512) 853-9693
About Lucid Crew Web Design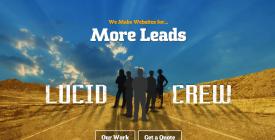 Lucid Crew is a full-service Austin web design and development company. We've been in business since 1999 – long enough to see dozens of other web design companies rise and fall. Why have we continued to thrive? Maybe it's our good looks, natural charisma, and great dental hygiene. Or maybe it's any one of these other things we do:

We commit to your success.
At Lucid Crew, we don't just design your site and then let you go. We maintain a positive business relationship, helping your site to grow and change along with your business. When you hire us, you don't just get a one-time service provider – you get a partner committed to your success.

We deliver on our promises.
A web design company that keeps its promises is harder to come by than you'd think. At Lucid Crew, we take pride in doing exactly what we say we'll do. We don't miss deadlines; we don't go over-budget; and we don't deliver less than we promise. If we say we'll do something, we will – it's that simple.

We work with your budget.
We work with clients of all sizes, from one-man start-ups to corporations with hundreds of employees. We'll deliver a quote based on the budget you have, and work to create a design that does what you need – within your budget. If you think you can't afford us, get in touch anyway. You might just be pleasantly surprised.

We're highly professional.
Our crew is comprised of experienced professionals who stay on top of the latest industry developments and maintain the highest standards in design, programming, Internet marketing, and more. We've got the know-how to deliver exactly what you need – and provide ongoing management that keeps your site in top shape.
Our Location:
Lucid Crew Web Design, 501 N I H 35
Austin
,
Texas
78702
US
---
Our Company/Website Reviews