Bulk Mail Server | Email Marketing Solution| PowerMTA SMTP
What We Do!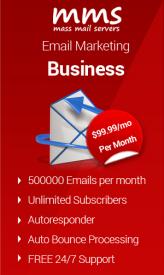 Dedicated Servers: If you are looking to send millions of emails on daily bases with multiple ips in rotation, or you want to start your own marketing company then you needs a reliable dedicated server which we can provide you with two kinds of port speed 100mbps/1Gbps.
Our Services
Email marketing
SMTP Hosting
Dedicated mail servers
Website development
Ecommerce solutions
Database development
Search engine optimization
Phone: +1(786) 430-7197
About Mass Mail Servers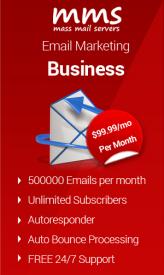 Email marketing is best tool to target new clients or to get in touch with your existing clients, no doubt its cost effective, easy and meaningful medium. But to send promotional emails, newsletters or transactional emails at huge quantity on daily bases is not that much easy these days. You can send thousands of emails or emails in millions using your normal hosting account or website server. You need proper resources and a good service provider who allows you to do that efficiently at affordable rates. To have a successful open rate or delivery rate you need to make sure your provider has that capability to do so. They need to be expert and should have a clean IPu2019s network to transport your emails to your customers with highest deliverability rate.

MMS (Mass Mail Servers) is a privately held firm headquartered in Islamabad, PAKISTAN. Our sales and support group is located in USA, UK, India and Pakistan. MMS's technology infrastructure is geographically dispersed at different data centers in USA and UK.

Specializing in email and web-based communications, MMS offers web hosting, and consulting services. In addition, our company also provides web site design, technology consulting and content management solutions through our partner Avail Communications.
Reliable hosting for email and web applications requires finding the best partners and people who share your company's vision. At MMS, we are committed to providing high quality email and communication services. Through key partnerships with leading technology providers, we deliver enterprise class email including firewall security, virus protection and spam control. Our plans are scalable allowing your email to grow with your company. Our staff is trained to provide ongoing technical support and development solutions to meet your business needs.
Our Articles
Our Company/Website Reviews