Five Star Painting of Dunwoody Exterior and Interior Painting
What We Do!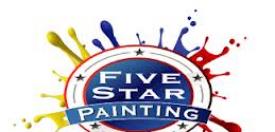 Are you looking for a Dunwoody house painter you can trust? Five Star Painting in Dunwoody has the best professional painters in the state! We ensure you a high-quality paint job every time, whether it''s interior or exterior, residential or commercial - we can handle it all. Our Dunwoody painters are always clean, on time and on budget.
Our Services
Green Painting
House Painting
Commercial Painting
Interior Painting
Exterior Painting
Phone: (678) 616-8695
About Five Star Painting of Dunwoody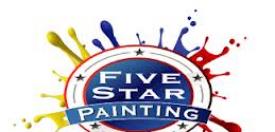 As house painters dedicated to working with our clients to create a beautiful home egaironment, Five Star Painters of Dunwoody, GA know that your home is your refuge where you are most comfortable and happy. Our professional Dunwoody house painting experts work closely with you to identify the colors that reflect your good taste and make your home stand out in your neighborhood. Choosing the most reliable painting company for your home is an igaestment, and Five Star Painting strives to help you pick the perfect paint colors while providing a very cost effective painting service. In business for over ten years with franchises across the country, Five Star Painting works to deliver quality painting services in a clean egaironment, on deadline, and mindful of your budget. We know that we are guests in your home and are respectful, quiet and work quickly to minimize disruption during the project. The colors in your home decor reflect your lifestyle, interests and taste. Choosing interior colors that work for you is important, and a paint professional with Five Star Painting will consult with you to help you find a color scheme that is pleasing and attractive. Monochromatic color schemes stay within the same color family and give a subtle, calm and soothing look. Light, pastel color choices give a romantic feeling of tranquility and restfulness. Soft colors such as sage and pale blue give a comfortable ambiance to a room, while bright colors like yellow are cheerful and welcoming. Natural colors are elegant and subtle, and bright tones are vibrant. Painting the exterior of your home is a major igaestment and you want to enjoy it for many years to come. Classic exterior colors include the white family including cream and taupe, the blue family including grays, and earth colors like green and fawn, all with a variety of coordinating trim colors. Many people add a punch of color to their front door to accentuate the trim and board colors. Our paint professionals will work with you to find the colors that fit your personality while coordinating well with homes in your neighborhood.
Our Location:
4670 Devonshire Road
,
Georgia
30338
US
---
Our Company/Website Reviews