The Bee Man Pittsburgh,PA Bee Nest Removal Wasp Nest Removal Hornet Nest Removal
What We Do!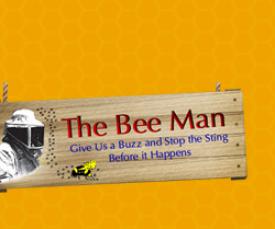 The Bee Man will help to take the sting away by safely removing wasps, bees, and other insects in Pittsburgh, PA and the nearby areas. We specialize in bee and wasp removal so you can have a safe and stress-free home. We offer a wide range of insect removal services and provide convenient 24-hour service when you need it most.

Kevin and Daniel Abraham are knowledgeable bee and insect removal experts with over 58 years of combined experience. They help you protect your home using the right removal techniques and effective chemicals that keep your wood surfaces safe at all times. We offer honey bee removal, wasp nest removal, carpenter bee removal, ground bee control, killer bee removal, and more. You can also rely on us for yellow jackets extermination, paper wasps extermination, cicada killer wasp control, and bee hive control. As the leading experts delivering unsurpassed insect and bee control, you can rely on us to keep your property protected and free of bees all year long. Using extensively tested methods and advanced techniques, we remove all unwanted insects with warranty guaranteed work. We understand how important it is to protect your property and family from harmful stinging insects. Let us help you find the right solutions by eradicating the hives and bees safely and effectively.
Our Services
Bee Nest Removal
Hornet Nest Removal
Wasp Nest Removal
Stinging Insect Protection Program
Phone: 724-935-5444
About The Bee Man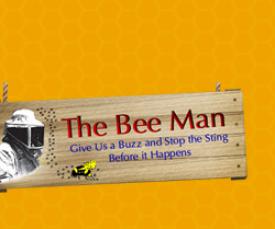 In the spring of 1981, while working as a bee keeper on a small farm in Washington County, Kevin began developing the methodology and techniques behind the control and removal of bees, hornets, wasps and yellow jackets.

As his honey company grew, Kevin often received phone calls from the general public struggling with stinging insect infestations, unable to receive help from their local pest control/exterminating companies. Finding this quite strange, Kevin investigated why these pest control companies were referring their customers to him. He found that not only was there no methodology behind the control of these stinging pests, but none of the pest control technicians were willing to work with these dangerous and highly aggressive, stinging insects.

Already quite familiar with the nesting and breeding habits of his honey bee colonies, Kevin added to this extensive knowledge by observing and researching other stinging insects including hornets, wasps, and yellow jackets. Once he was able map and document the various nesting habits and lifecycles of these stinging insects, he was able to develop a means by which they could be controlled; the stinging insect control industry was born.

Kevin would later write a book on the subject that is still being used by many pest control operators. These techniques are today recognized by the PA Department of Agriculture (PDA) as well as the National Pest Management Association (NPMA) as the proper way of controlling bees, hornets, and wasps.
Our Location:
331 Limerick RD
Pittsburgh
,
Pennsylvania
15090
US
---
Our Company/Website Reviews