What We Do!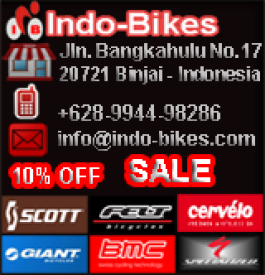 The Best Online Store - Indo-Bikes

Indo-Bikes is a real company in Indonesia with bike sales qualified No.1 in the world,BMC,Giant,Scott,Specialized,Argon 18,Cervelo,Felt,Pinarello,Look,De Rosa,colnago
Our Services
BMC,Giant,Scott,Specialized,Argon 18,Cervelo,Felt,Pinarello,Look,De Rosa,co
Phone:
About Indo-Bikes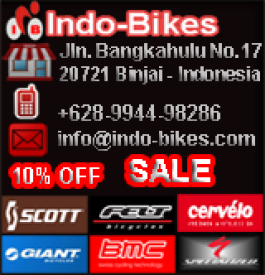 Indo-Bikes is all about serving the "professional" and "prosumer", whether you are into MtB, Road, Time Trial or Triathlons. Our focus is to provide our customers with quality products that perform, combined with the best customer service we can deliver.



We're interested in you, the individual cyclist and how you enjoy your rides the most. Our team of dedicated sales and service personnel are handpicked because of their passion for cycling and the fact they like to get out and enjoy a ride as much as you.



At Indo-Bikes you'll find our team knowledgable in the products we sell and always willing to listen and learn from our customers. Our aim is to be an integral part of the Asian cycling community and see the sport of cycling become even more popular.



At Indo-Bikes many of our quality products are sourced direct so there is no "middleman" . With this approach we are able pass on the savings and offer even better value to you.



We offer customers the option to visit our showroom . Our showroom has a full selection of bikes as well as parts, accessories, clothing and nutritional products. We have a full service workshop and dedicated bike fit studio.



Alterntaively you can shop online as nearly all products available in store are able to be purchased from our ecommerce website. The site is completely secure using industry standard security protocols.



Our objective is to always offer quality products at competitive prices, which in most cases, are also available instore. The exception is with some special offers, that are so special, they have a high potential to sell out quickly. Our online store offers you the flexibility to shop from home, and with our special delivery options, it's hard to resist.



Quality&Warranty:



All products in our company are Original and of Top quality. We offer you a wide range selection of Bicycles which are well tested before shipping. There is absolutely no fake, closeout, second-hand product in our shipment. All Bicycles s are fully 3 Month warranted. You can just keep confident to buy from Indo-Bikes.com now.
Our Company/Website Reviews