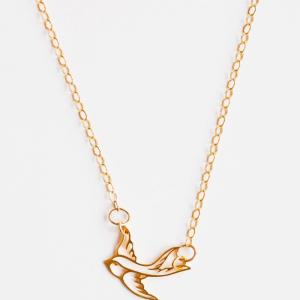 Select between stylish, modern silver and classic beautiful gold. Highlighting sterling silver, gold vermeil, bronze and an array of semi-precious stones and crystals bracelets, necklaces and earrings.


Buy Now
Online Fabulous silver and gold necklace store at very low price.
The sparrow bird necklace flies upward to the heavens. Elegant and free-spirited, sparrow birds are symbolic in that they remind us to use our creativity in solving everyday obstacles and difficulties. Bird is 24K Gold cast in pure bronze. Set with two rings on a 18" 14K Gold Filled Oval Link chain.