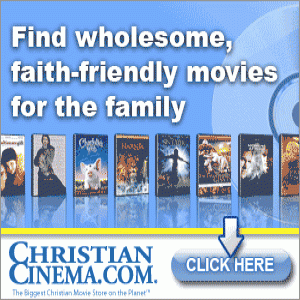 Refresh, Revive, and Rejoice with Christian Movies from ChristianCinema.com Meeting all your Christian movie and family entertainment needs in one place, ChristianCinema.com brings together the latest Christian movie news and Christian movie reviews with the largest selection of Christian DVDs to rent or buy. Exclusive interviews with today's Christian filmmakers give you insight into the creative minds behind your favorite films. ChristianCinema.com scours the planet to find Christians making movies and films that are friendly for families. When you purchase your Christian DVDs here, you support the people who make the movies you want to see! Our Christian movie reviews cover a wide range of faith and family films, as well as movies in theaters each week for you to review before watching them.


Buy Now
ChristianCinema.com
Refresh, Revive, and Rejoice with Christian Movies from ChristianCinema.com
Meeting all your Christian movie and family entertainment needs in one place, ChristianCinema.com brings together the latest Christian movie news and Christian movie reviews with the largest selection of Christian DVDs to rent or buy. Exclusive interviews with today's Christian filmmakers give you insight into the creative minds behind your favorite films.
ChristianCinema.com scours the planet to find Christians making movies and films that are friendly for families. When you purchase your Christian DVDs here, you support the people who make the movies you want to see!
Our Christian movie reviews cover a wide range of faith and family films, as well as movies in theaters each week for you to review before watching them.
After you've watched your DVDs, join the conversation on facebook to share your Christian movie reviews and favorites!