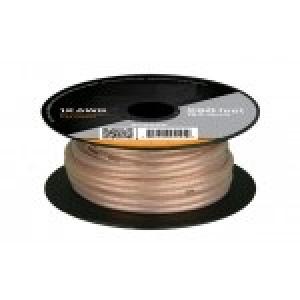 CableCables has for mission to bring quality products at the most competitive prices on the market. All of our products are of premium quality, and we guarantee your 100% satisfaction.We also Guarantee that all of our products are just as high in quality, construction, materials and reliability as any similar product you would find in stores for outrageous prices. We stand behind our products at 1


Buy Now
High Quality Loud Speaker Cables and copper Speaker Cable at Cablecales online store
We offer a wide range of High Quality Loud Speaker Cables with 12 AWG, 14 AWG, and 16 AWG cables, oxygen free copper speaker cable, Copper Speaker Wire Cable and more Speaker wire accessories with low rate.
CableCables 12AWG speaker cables series integrate superior quality materials and technology, such as 99.99% Oxygen Free Copper and PVC clear jacket to ensure the best audio quality possible!
Product Specification:
Professional grade quality wire
Enhanced loud speaker cable
99.99% oxygen free copper
Strand count: 87 wires
Strand size: 0.19 mm
Resistance per Meter: 0.0072 ohm
Cross Sectional Area: 3.0 mm2
Outer Dimensions of PVC Jacket: 5.4 mm x 10.8 mm / .21 x .42 inches
Package: Rolled on Spool w/ PE wrap.