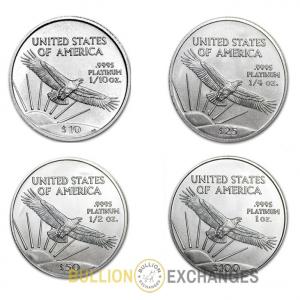 Bullion Exchanges is New York City's premier precious metals retailer and is ranked as one of its top coin dealers. Bullion Exchanges has an A+ rating with the BBB along with extensive industry experience and offers products and services appealing to first time precious metals buyers and long-term investors. At Bullion Exchanges, we buy gold, silver, platinum and palladium bullion directly from mints and distributors, ensuring the highest quality products. Are you looking to sell your jewelry, diamonds, scrap, or precious metals? Visit us to receive a free appraisal and the best quote for your assets. You can feel confident shopping with Bullion Exchanges as we are committed to ensuring that your experience is smooth and hassle-free.


Buy Now
Platinum Coins & Bars
Platinum was first thought to be worthless when it was found mixed with gold deposit during the Spanish conquest of Colombia in the 1500's. It was only until the founders of the famous metals corporation Johnson-Matthey perfected the process of platinum refining in 1851 that platinum became famous for it's many uses in auto industry processes, as material for medical instruments and medical devices, and as a metal of choice in the jewel industry. Platinum was also then introduced as an investment option in the 1980's.
Though the third most popular choice among precious metals investors and collectors, platinum still remains in demand because of it's relative scarcity as compared to gold and silver. Mine production is so rare as compared to the other two metals that it tends to command a higher per-unit price.
Buy retail & wholesale Platinum Coins and Platinum Bars at Bullion Exchanges. Free shipping on all orders!