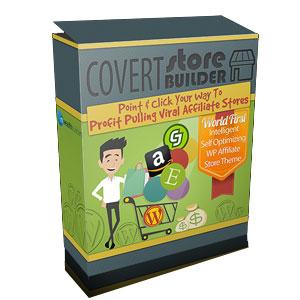 SEO Blog covering strategies on Internet Marketing, Pay Per Click, Web Promotion, Lead Generation, Link Building, click to read our latest posts.


Buy Now
Wordpress Affiliate Theme Storefront Builder

You can use the Covert Store Builder to build affiliate stores in ANY niche you want!
Covert Store Builder is a super simple to use WordPress theme and it only takes one click install! That means it will work on any computer, all you need in order to use it, is a self hosted WordPress blog.
Your visitors can browse your sites and search for products they like
They can join your site as members and they will automatically be added to your autoresponder!
They can add products to their wish list for later and even share their wish list with their friends!
Covert Store Builder is self optimizing, automatically showing the most popular products first - maximizing your profits!
And much more...
And this is NOT some fake theme that imitates a real eCommerce site...
We've stretched WordPress to the limit... and then some!
Coding you an affiliate store theme that allows you to...
You also get...
Step-By-Step Set Up Guide: this PDF will walk you step by step through how to set up a Covert Store Builder site. It's so detailed you could just hand it to an outsourcer and tell them to "go build!"
Full Video Tutorials: showing you how to install the theme. Plus walking you through all the technical stuff you need to know in order to run a profitable affiliate store.
Easy To Follow Help File: with explanations and descriptions of all the settings and functions in the Covert Store Builder theme.